About Us
Friendly, Fresh, Familiar
We are a brick and mortar shop in the heart of Downtown Belleville proudly serving the community we love.
We are committed to providing great customer service at every price point. Our clientele are loyal and important to us and expect us to be flexible in creating floral displays that range from the traditional, to fun and funky, to tasteful and elegant and everywhere in between.
Our cooler is filled with the freshest blooms prepared using the best techniques resulting in flowers that look better and last longer.
We provide same day local delivery using our own experienced drivers.
We stand behind our product and our friendly staff is dedicated to making your experience as pleasant as possible even under difficult circumstances.


rebecca@flowersbydustin.ca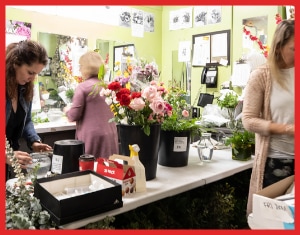 Flowers By Dustin
384 Front St.
Belleville,ON K8N 2Z4